Smart Plant
Biogas plant optimization system for reducing production costs

Biogas plant optimization system for reducing production costs
In Poland, the second most popular method of producing energy from renewable sources is the processing of biomass. One of the more interesting ways of using it is the ecological and safe processing of bio-waste into gas, which will be used as fuel for the production of electricity and heat. This process is entirely carried out in biogas plants, and the biogas production technology has been available on the market and has been popularized for over 20 years.
Challenges
production process management
expansion of the production process with various substrates
improving the operation of biogas plants in remote locations
lowering the risk of unwanted reactions inside the fermentation tanks
Solution
From these needs the Smart Plant system was born. Its task is to optimize the work of biogas plants with the use of dedicated machine learning algorithms, connected with appropriate actuating devices, created for these needs.
As part of the project, in addition to activities aimed at adapting the machine park to the acceptance and processing of diverse biomass material, software was implemented for the control and management of the biogas production process, supply chain economy and prediction of electricity production. The entire solution has been built with the ability to remotely monitor and manage main processes. The algorithm used in the Smart Plant control software allows to optimize the biogas production process, ensuring its stability even when using substrates of different quality.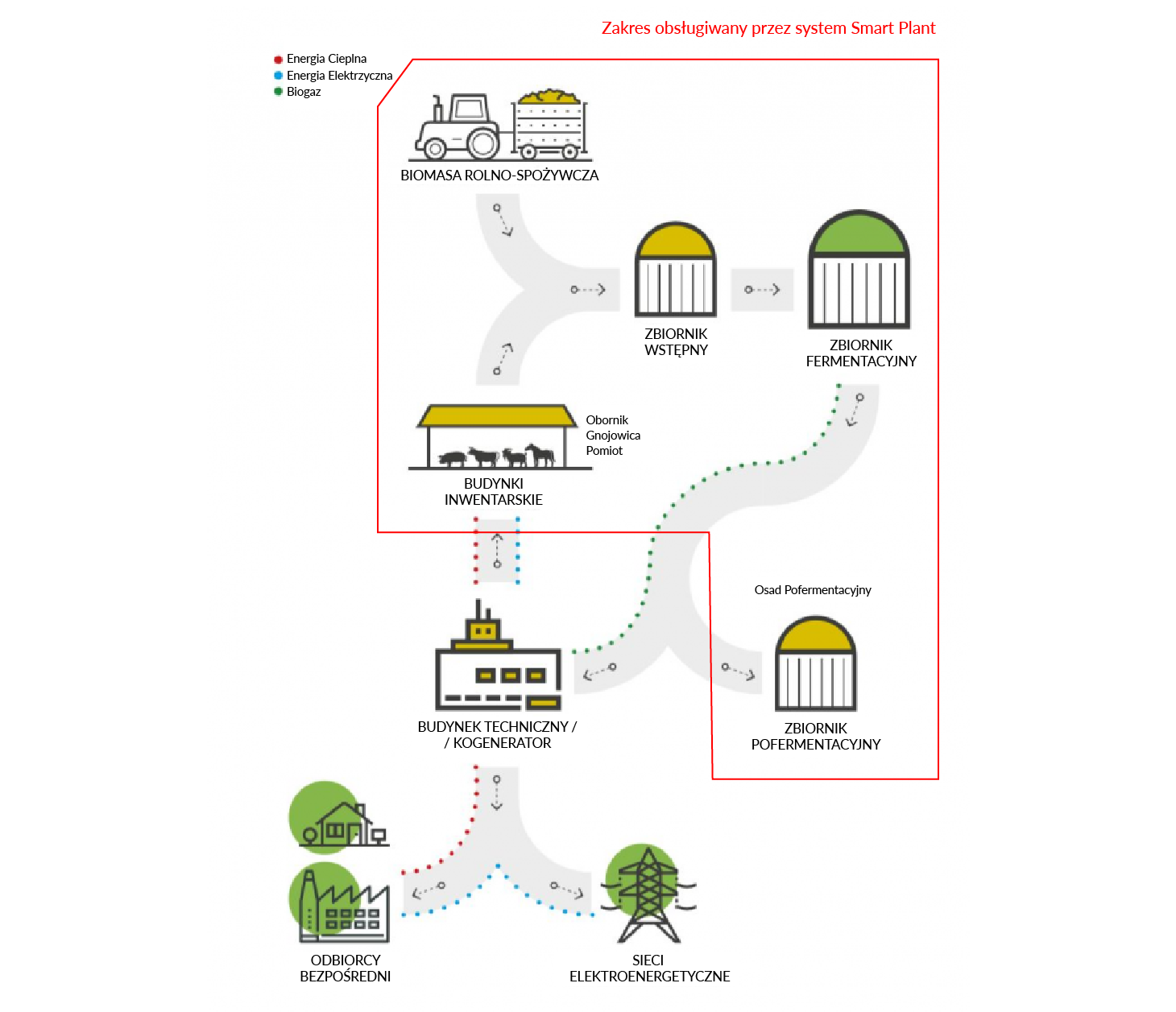 Modules
Reporting module – Reads data from the SCADA system, measurement and calculation systems and from other systems such as ERP. It determines any defined production indicators, e.g. unit production cost. Documents exceeded parameters. Sets the trend changes for selected production indicators and process parameters.
Production planning module – Develops optimal, quantitatively and qualitatively, mixtures of substrates, based on data on the availability of specific substrates and information on planned changes in production. It automatically checks the correctness of the generated dosing tables and process parameters (efficiency).
Operator panel – Displays tables for dispensing substrates by type and quantity. It allows to manually start the type of substrate being loaded. It controls the loading of a given substrate (its quantity) and enables the loading of a given substrate. It automatically closes the load for each substrate once the quantity according to the dosing table is reached. Works with balance and flow meter.
Regulation module – Controls the filling level of the tanks, checks the pressure in the tanks. It alters the dosing of the substrates (increasing, decreasing or stopping the dosing) keeping the tanks of the biogas plant filled within the given range.
Results
Maintaining high productivity of the biogas plant using a variety of substrates.
Reduction of operating costs.
Lowering the cost of substrates.