Electronic information board at the Department for Foreigners in Poznań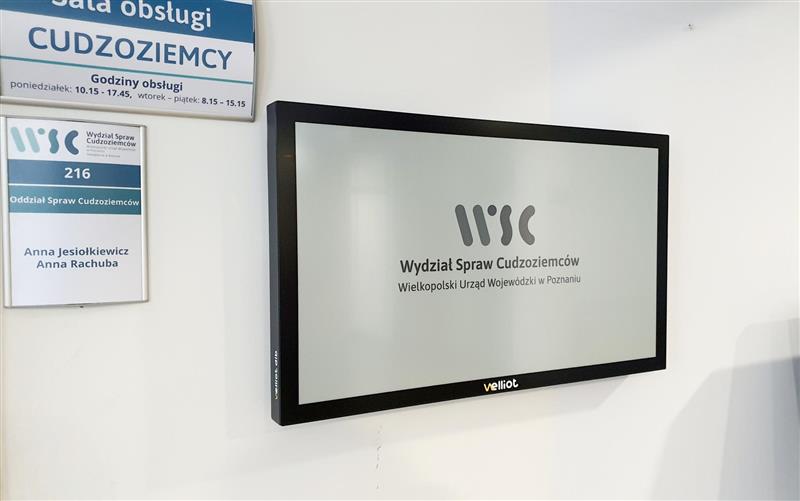 Welliot Poster 31.2″ screens have been installed at the Department of Foreigners in Poznań. Welliot's e-paper technology is a new information carrier for visitors and supplicants.
Department for Foreigners in Poznań
The Department for Foreigners at the the Office of Wielkopolska Province in Poznan offers services to people from abroad, providing them with assistance, in such areas as: employment, border traffic control or internal affairs. These tasks generate large amounts of messages that were previously printed out and posted on paper bulletin boards. The daily exchange of printed materials was related to high printing costs and possible mistakes at the stage of preparing information for foreigners visiting the Office and its delegation.
The main goals of implementing Wellliot Poster boards:
automation of the process of switching up printed content in display cases
limiting printed materials
centralization of information for foreigners
constantly up-to-date information
Welliot Poster solution used
In order to optimize the processes related to the frequent exchange of content in the Office, 7 large, legible Welliot Poster screens in the size of 31.2″ were installed.
The installation took place in Poznań and the Office's branches located in Konin, Kalisz, Piła and Leszno. The applied solution successfully passes the test in each of the facilities, providing measurable benefits:
economy and fast flow of information
no need to change content manually
significant reduction of printed materials
relief for employees (no need to switch up information in display cases)
Welliot Poster boards display multilingual content, thanks to which they provide a personalized message to petitioners visiting the Office. Welliot e-paper screens are a guarantee of constantly up-to-date information without having to spend time replacing printed materials.
Welliot Poster for public administration
Welliot Poster is an electronic screen designed for e.g. for public administration facilities. The main task of Welliot Poster is the digitization of classic information content in display cases. Instead of printing documents and information, thanks to e-paper technology, officials have full control and can change the message in real time.