Welliot City at tram stops in Warsaw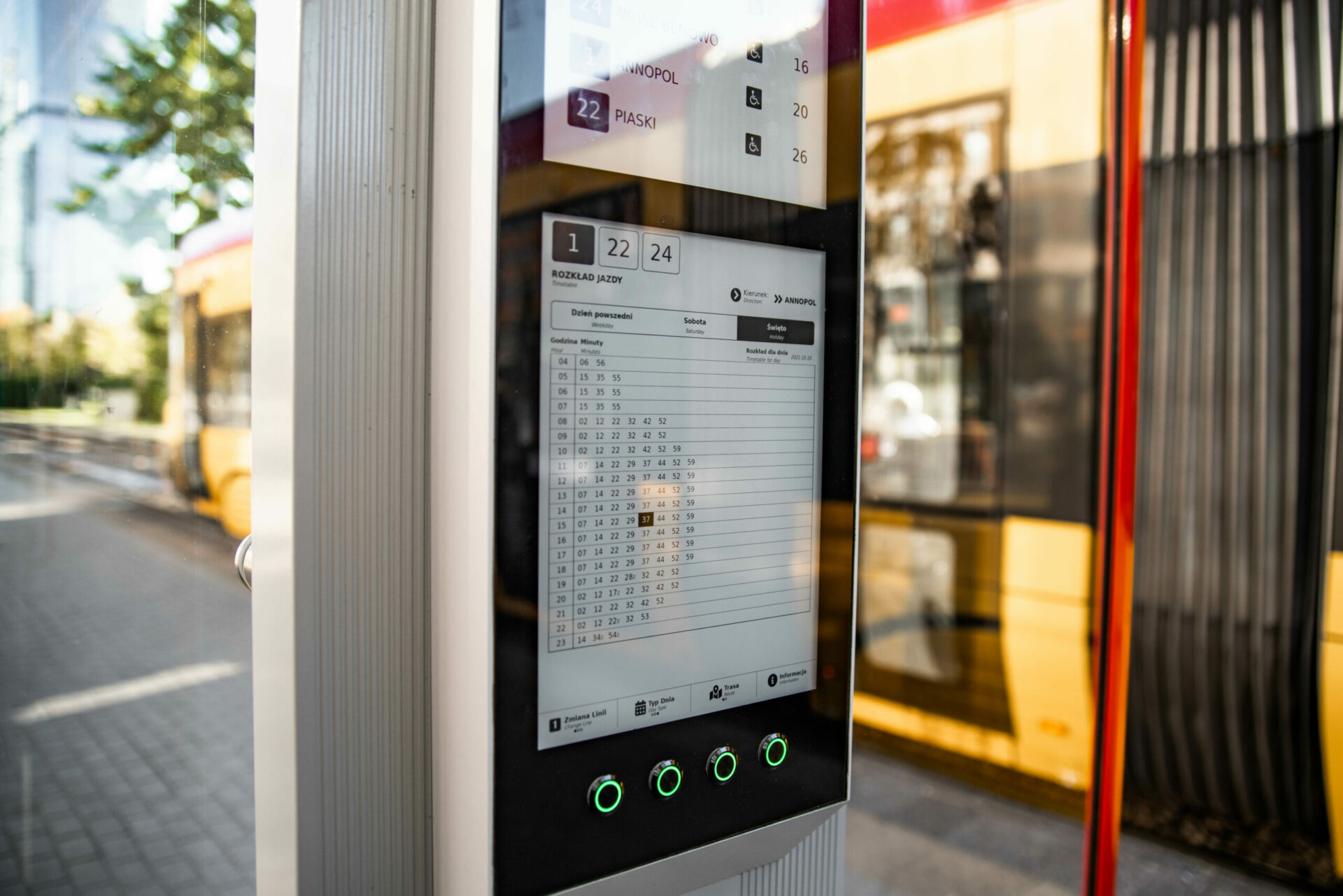 Public transport planning is a complex process that relies on a variety of data and models to predict future traffic trends. Schedules should be designed so that waiting times are relatively short and the information provided is up-to-date.
Critical processes such as scheduling adjustments can slow down the flow of information and generate high costs at each stage of introducing new content.
To meet the demand for better transport services, today's smart cities are beginning to consider innovative approaches to public transport planning, fast delivery processes and placement of destination information. One of such solutions is the e-paper passenger information board – Welliot City.
Challenges
Public transport planning is a complex, multi-step process that uses collected data sets and surveys to forecast future transport demand. Engineers evaluate variables such as route initiation, destination, travel mode, shipping and control, impressions and delivery, and identify changes to the transportation infrastructure.
Improving information management processes in public transport
One of the biggest challenges facing public transport is the constant change of paper timetables. This is linked to many factors such as turnaround time, printing error checking, self-printing, and multi-location delivery in the city.
Before introducing the Welliot city solution to Warsaw's Trams, employees were burdened with complex processes, and updating the entire information infrastructure of the city required time and considerable financial outlays.
Changes in the timetable result from ongoing repairs, changes or disruptions to the routes. All of them are associated not only with high costs, but also a number of complex logistics processes, from self-designing modifications, through printing, receiving and distributing documents from the printer, to managing the calendar with published updates. Not all of these changes can be made in a timely manner, resulting in a lack of accuracy in passenger information.
Solution
Welliot City in Warsaw – electronic timetables
Welliot's e-paper display simplifies and completely eliminates the above processes. The system at the disposal of Trams Warszawskie connects via API with the Welliot display at a given stop and displays real-time information about changes to the timetable, accidents and delays.
The advent of electronic timetables replaced manual work on site with a centralized process for managing and updating timetables for each line in a computer system.
Using the most modern Smart City solution not only eliminates printing costs and the need to manually change information in each location, but also allows you to avoid cutting down trees, thus reducing greenhouse gas emissions = reducing carbon dioxide emissions.